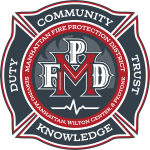 The Freedom of Information Act (FOIA) is the principal Illinois statutory enactment governing public records inspection. This Act guarantees access to thousands of documents and records generated by the state and local governmental bodies. Specifically, it provides the public with a mechanism to observe and monitor the government's activities.
The following is the Manhattan Fire Protection District's procedure for obtaining information through the Freedom of Information Act. 
By following these steps, requests for information can be expedited in an effective and efficient manner.
Step 1: Complete a Freedom of Information Act Request Form
All requests for information must be made in completed form. Forms are available for download from here or from
the Administrative Fire District Office, located at 100 Park Rd.-Manhattan, IL.
Once a form has is completed, requests for information covered under the Act should be referred to the Administrative
Fire District Office, specifically the FOIA Officer. Any type of request for information should be accompanied by the request form. 
Forms should be completed even when there are concerns that the information may be exempt under the Act.
It is essential to be as direct/specific as possible when making a request. A request may be made in a letter format if it
contains all the necessary information required on the forms.
Step 2: Addressing the Request
Hard copy requests may be emailed or mailed to the Freedom of Information Act Officer to the following address/email:
Manhattan Fire Protection District
Freedom of Information Officer
100 Park Rd.
P.O. Box 65
Manhattan, IL 60442
815-478-3197



Individuals may make FOIA requests between the hours of 8:00 a.m. and 4:00 p.m., Monday through Friday, except on
Fire District-observed holidays.
Step 3: Fire District Response
The Freedom of Information Officer shall determine whether the information is exempt or nonexempt under the
provisions of the Freedom of Information Act.
The Fire District shall respond to a written request within five (5) working days from the receipt of the request. It is
possible that the Fire District will request an additional five (5) working days to fulfill the request. However, a written
response informing the requester of an extension will be made by the fifth (5th) working day.
The Fire District shall respond to the request in the following manner:
Approve the request
Approve in part and deny in part / "Partial Denial."
Deny the request
Give notice of an extension
Provide the requestor with an opportunity to appeal a response
Freedom of Information Officer Contact
Requesters that choose to have their information emailed will not incur any fees for photocopying. Please note that fees may be charged for information mailed to requestors, DVD, CD, and large document duplications.