News
Posted November 2, 2023
Back in April the Manhattan Fire Protection District recognized and honored its members' achievements from 2022 at an appreciation banquet. Since it's EMS week, it's the perfect time to share and celebrate our members for their individual and company achievements!
The awards were given to those with 5, 10, 15, and 20 years of service to the District, Unit Citations, Life Saves, Individual Performance, and Community Service awards, as well as EMS, Firefighter, Rookie, and Officer of the Year.
These awards were chosen by the membership as a whole based on the criteria for each award to be the 2022 award recipients.
Please join us in congratulating the following members:
• FF/PM Kalli Markle recipient of the Todd Burke EMS Person of the Year Award
• FF/PM Jacob Walsh recipient of the Matthew Zack Rookie of the Year Award
• FF/PM Jeremy Wilson recipient of the Jack "John" Fitzgerald Firefighter of the Year Award
• LT Kyle Eller recipient of the Dale L. VanderBoegh Officer of the Year
Congratulations to all! Thank you for continuing to proudly service the communities of Manhattan, Peotone, and Wilton Center!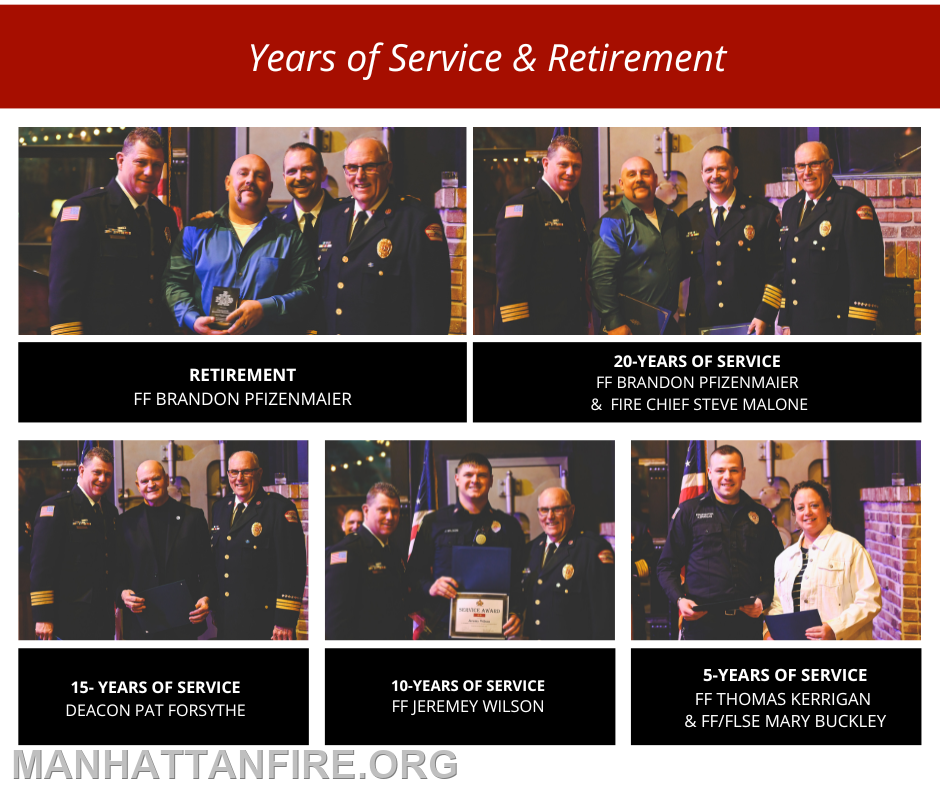 The years of service achievements show the dedication and loyalty of these members to the district and do not go unnoticed. FF Brandon Pfizenmaier served 20 years with the Manhattan FPD beginning his career in 2002 and retiring December 31, 2022. Thank you for your commitment and dedication to the Manhattan Fire District. We wish you nothing but the best in your personal life and fire service career!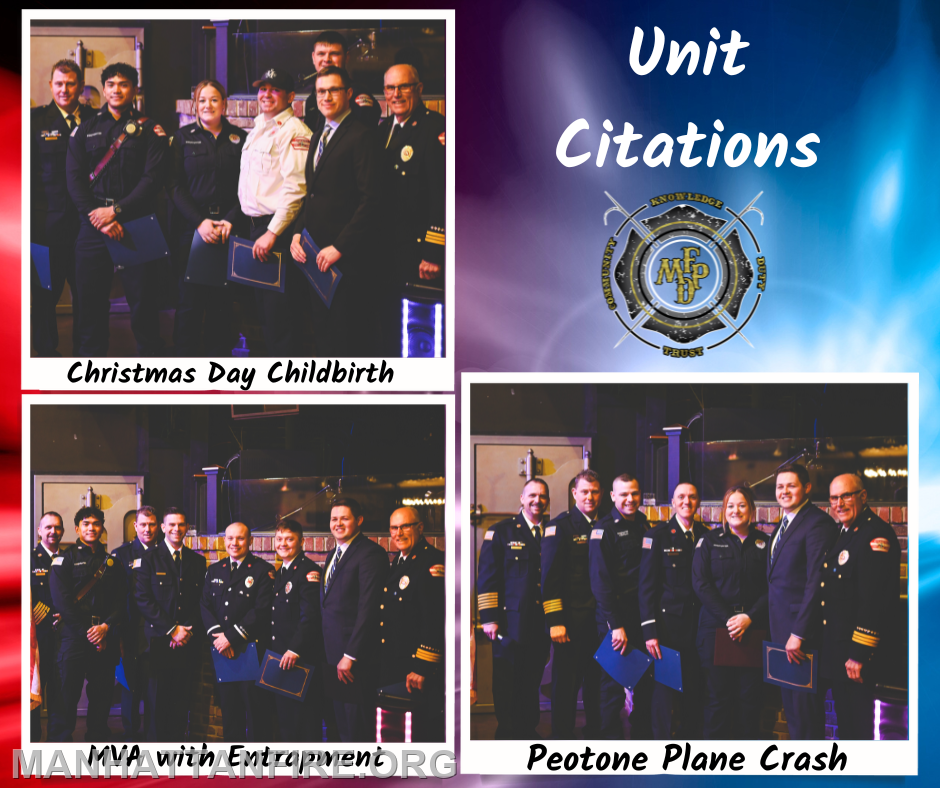 The Unit Citation Ribbon is awarded to a unit or group that has demonstrated outstanding performance of their duties for the Manhattan Fire Protection District. These duties may include responses, assigned work, or special tasks that make a significant impact on the Manhattan Fire Protection District or the outcome of the response. Although we have had several calls that had positive outcomes and great teamwork in 2022, we recognize a few that stood out among the rest. Congratulations!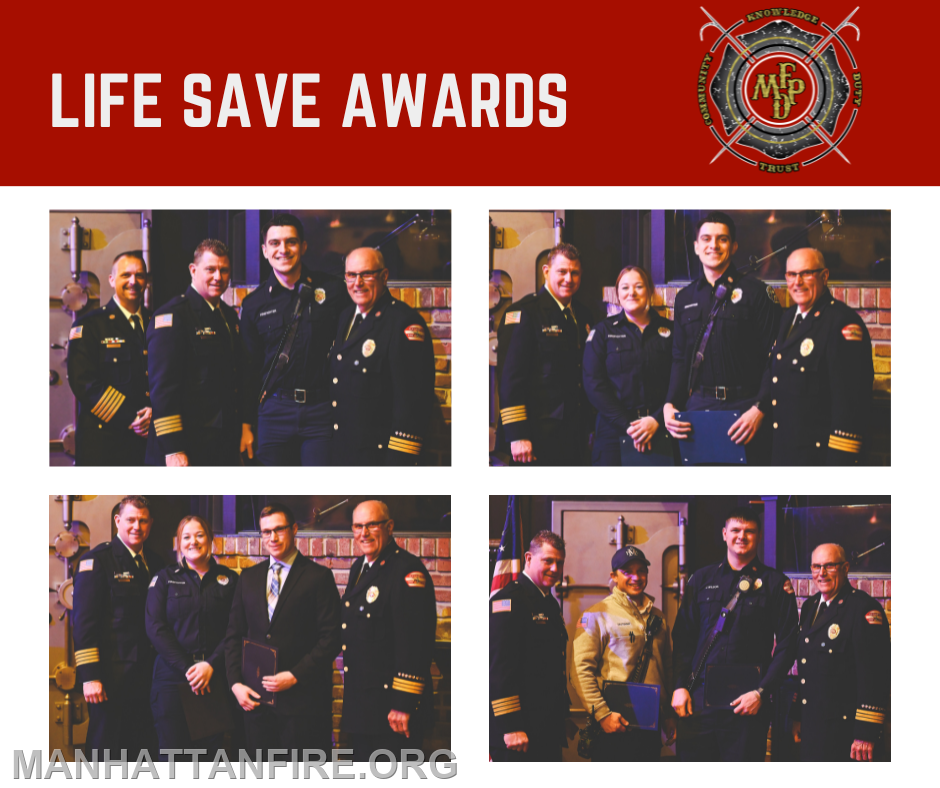 Similar to the Unit Citation Ribbon, the Life Save award acknowledges responders who have participated in the life-saving application in the prehospital setting and were successful is their efforts. All four saves acknowledged during the awards banquet were for persons in cardiac arrest. Congratulations and well done!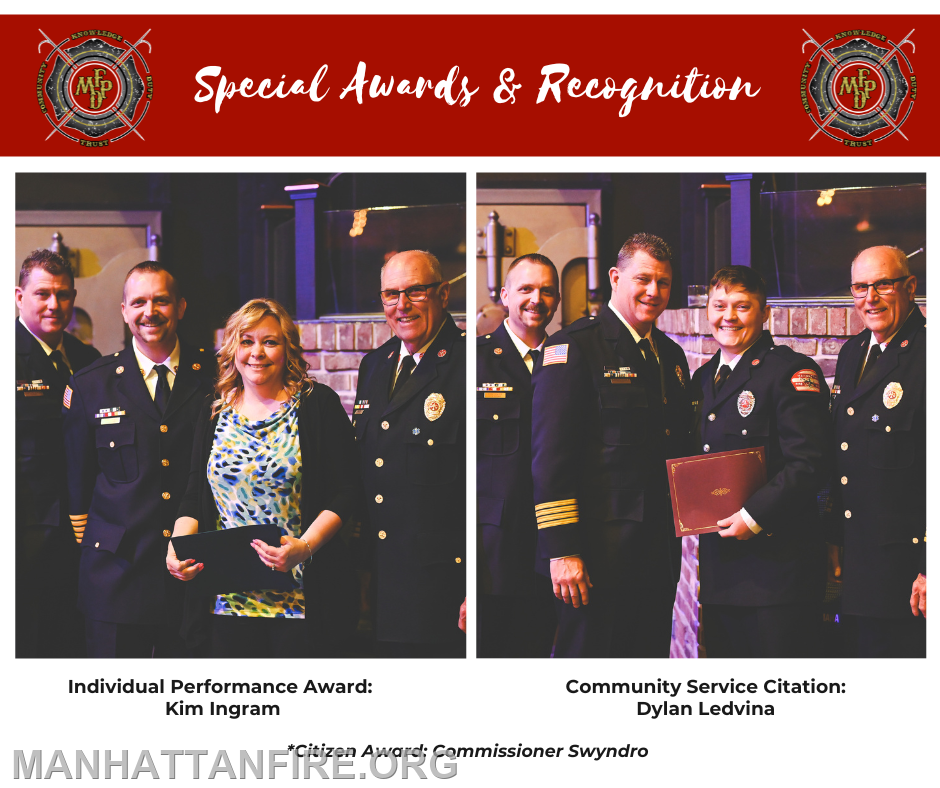 Special awards were given to recognize 3 of members for going above and beyond in certain areas. Individual Performance – Kim Ingram was nominated for the Individual performance award for the countless hours of work and dedication she committed to the fire district. She is the glue that holds the district together and she did an outstanding job throughout the consolidation process. Citizen Award- Commissioner Swyndro goes above and beyond for others. He volunteers to help older adults in the community with smoke alarms, helps at all our member events and volunteers his time at community events. Unfortunately, Commissioner Swyndro was unable to attend the awards banquet but we'd like to take a moment to thank him! The Community Service Citation Ribbon is awarded to any individual or group that has demonstrated outstanding performance and dedication to the citizenry and community for which the fire district services. This may include but is not limited to volunteerism, sponsorship, mentorship, and general community service. FF Dylan Ledvina's work with Project Fire Buddies has been remarkable. The amount of time and effort he has dedicated to this fantastic program is nothing short of amazing. Making a difference in the lives of families in the community we serve should not go unrecognized. Thanks for all you do and keep up the good work!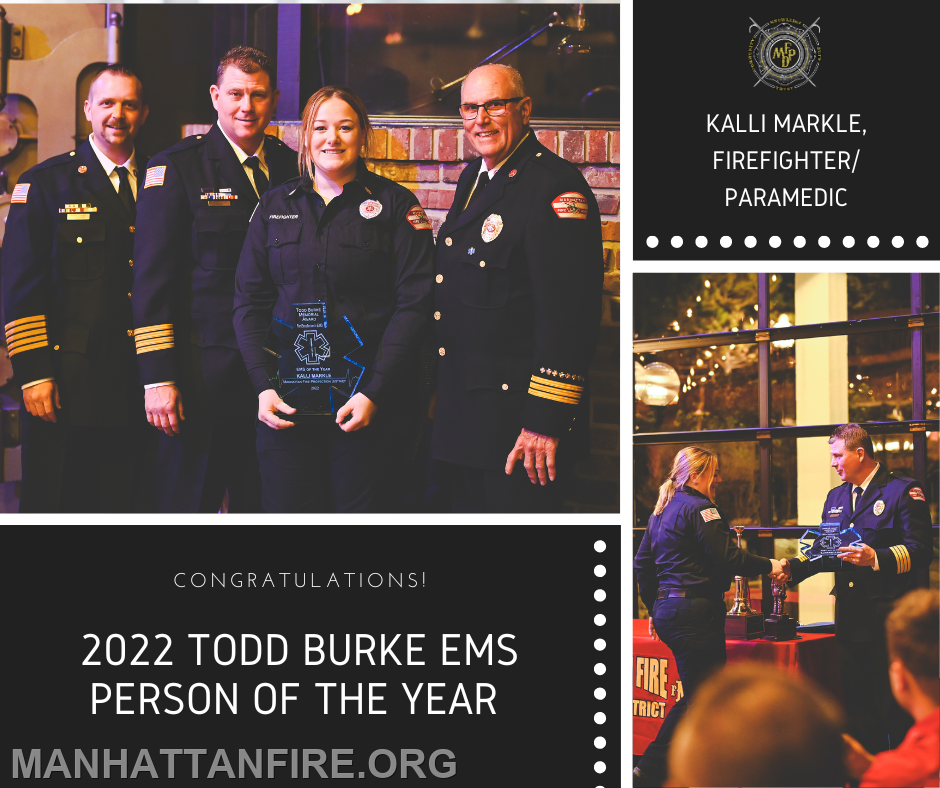 Todd Burke was an extremely hardworking and driven person. He lived and breathed the fire service, especially the EMS side of the fire service. Todd was considered the "go-to guy" for anything and everything according to his family. He would do everything he could to help everyone he encountered on a daily basis. Todd became a highly respected paramedic and was regarded as "The" leader in the ambulance. Todd never stopped learning and was constantly sharpening his EMS skills. At the time of his passing, it was discovered that he was applying for further education at different medical schools. Although Todd's time in the fire service was cut short, the impact he had during his short tour of duty lives on in this memorial award. This year's EMS Person of the Year exemplifies many traits Todd had. Congratulations FF Kalli Markle!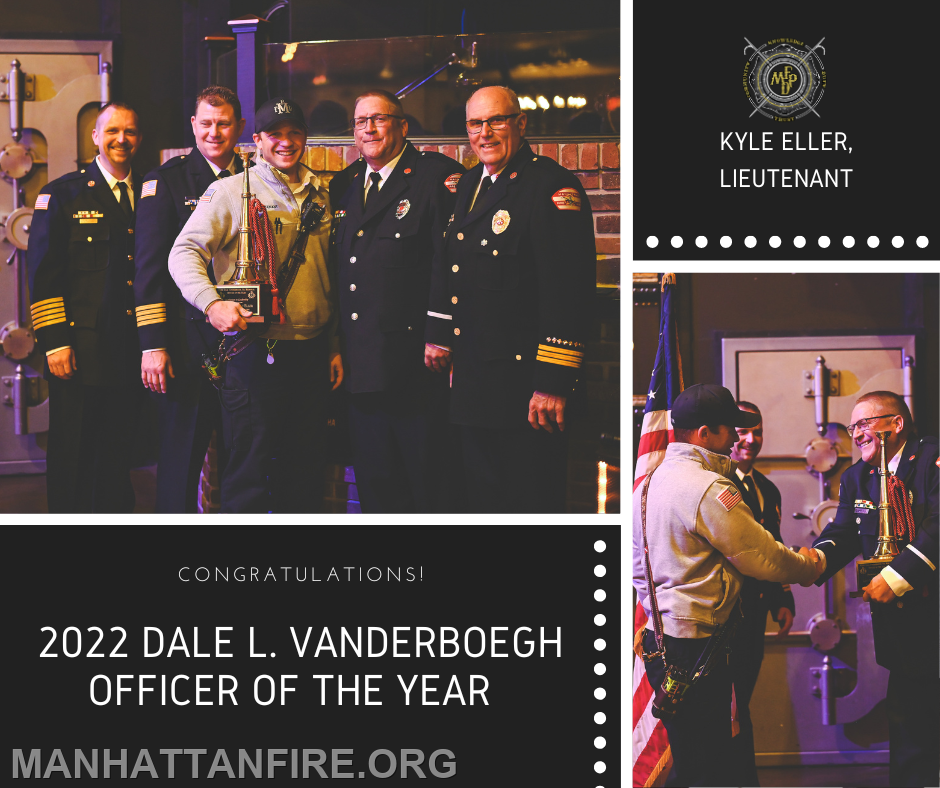 Dale "Chubb" VanderBoegh was known for his drive and push for education and training. Gaining education and training was crucial to developing as a firefighter in Chubb's eyes. Public service and image were also extremely important to Chubb. He always wanted members of the department to do the right thing and remain professional in and out of the firehouse. Chubb always had pride in the organization and the equipment. But to Chubb, family was always first. The fire department family was important but the family at home was most important. This year's Officer of the Year exemplifies many traits "Chubb" had. Congratulations Lt. Kyle Eller!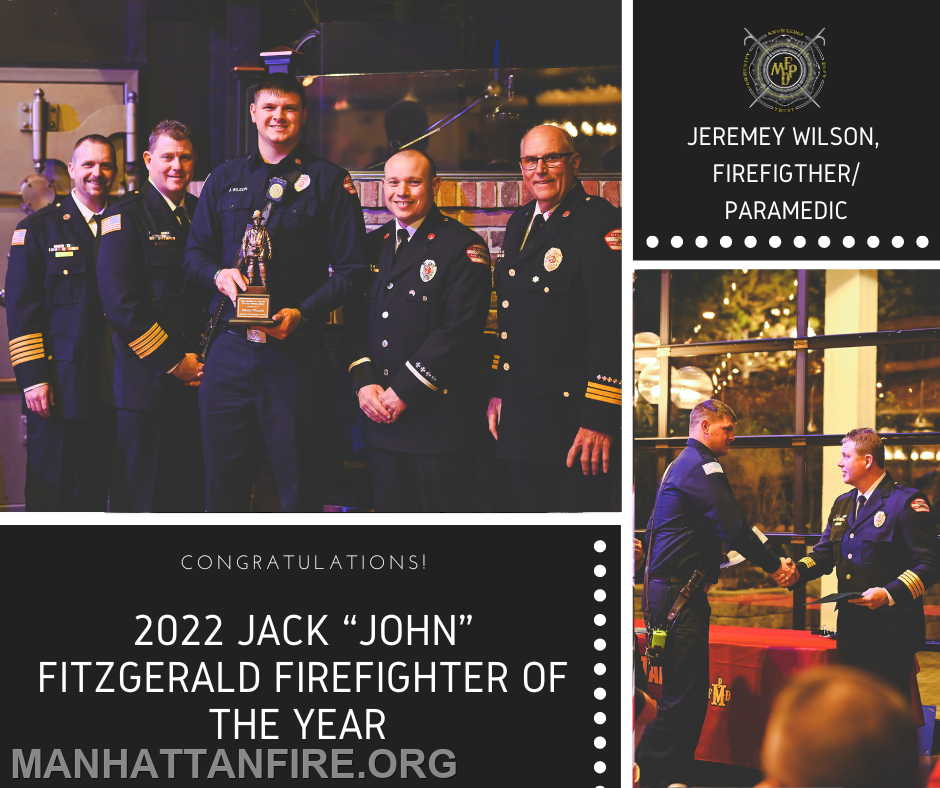 Jack Fitzgerald was one of the most dedicated firefighters to the Manhattan Fire Protection District. Jack had always been the first to stop whatever he was doing and respond to the firehouse if there was an emergency. He was a big promoter of education and always supported the firefighters in furthering their education. Jack was an individual that always brought the best out of people and looked for the positive in every situation. Jack also gave everyone the benefit of the doubt when complications arose. As a firefighter, Jack displayed heroic efforts on multiple occasions, including the selfless act of rescue in the face of extreme danger. This year's Firefighter of the Year exemplifies many traits Jack had. Congratulations FF Jeremey Wilson!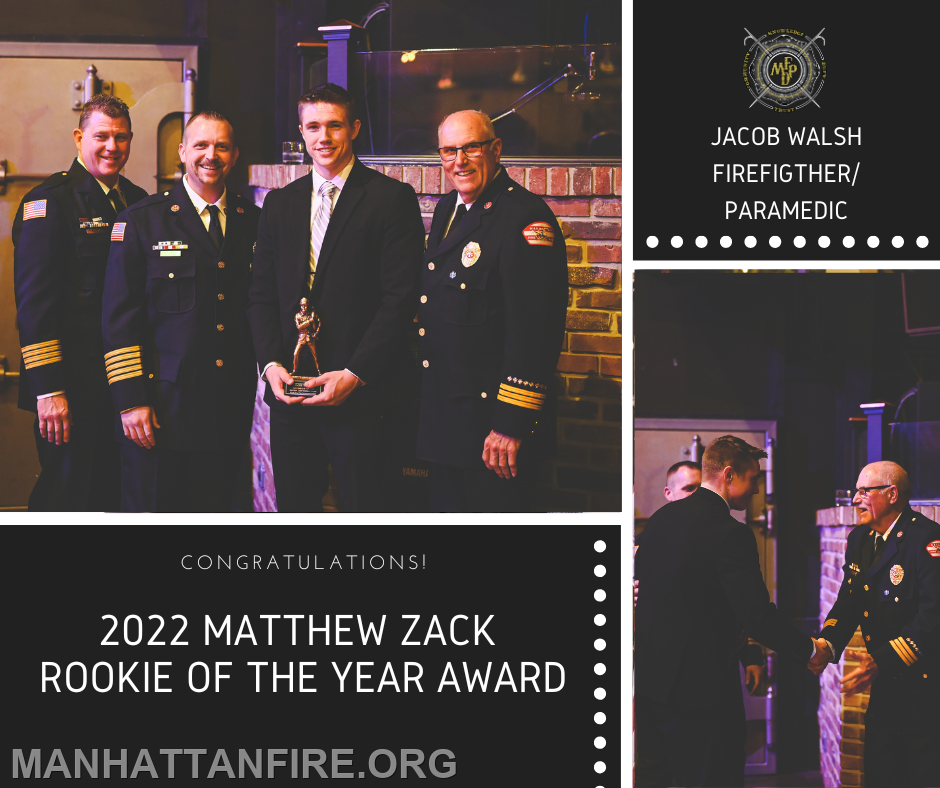 Matthew Zack was only a candidate at the time of his passing, but that detail provides some insight into what kind of a fireman he would have been. Matt was eager to learn, self-motivated and serious but also knew when and how to provide some comic relief to help with company morale. Matt's passion for firefighting was surpassed only by his dedication and love for his family and friends. His desire to become a firefighter was evident early on in his life and shown even more each day he went through the academy. Matt would come home from the academy and tell everyone about the newest skills and techniques he learned. He showed the fire service what it meant to be a true student of the profession. This year's Rookie of the Year exemplifies many traits Matthew Zack had. Congratulations FF Jacob Walsh!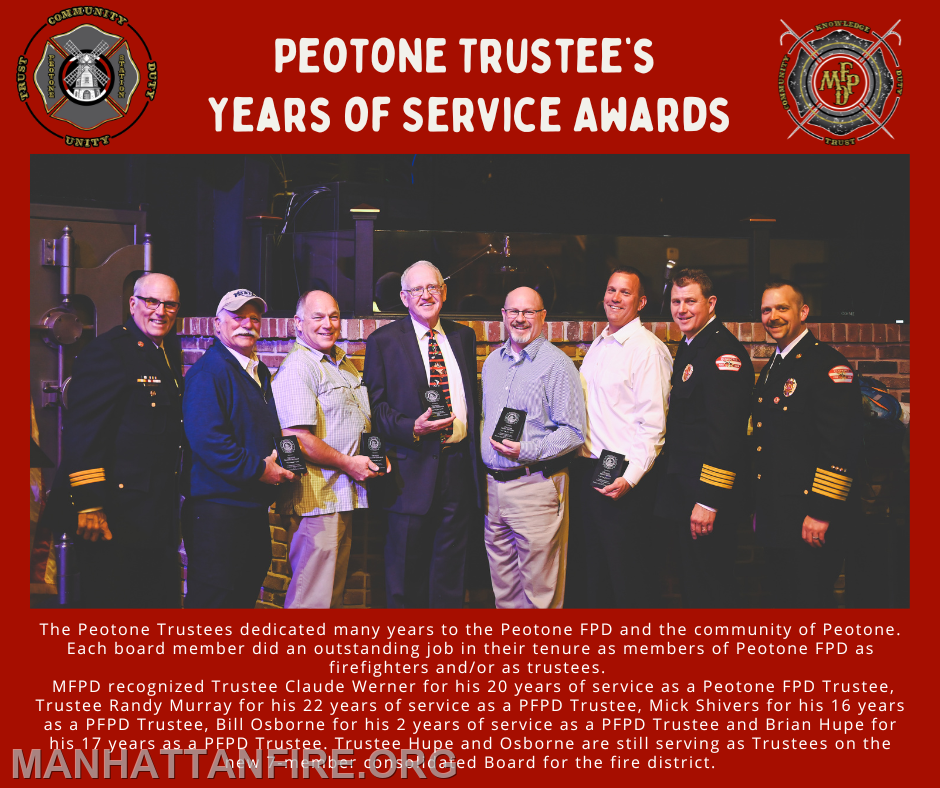 The Peotone Trustee's dedicated many years to the Peotone FPD and the community of Peotone. Each board member did outstanding job in their tenure as members of Peotone FPD as firefighters and/or as trustees. MFPD recognized Trustee Claude Werner for his 20 years of service as a Peotone FPD Trustee, Trustee Randy Murray for his 22 years of service as a PFPD Trustee, Mick Shivers for his 16 years as a PFPD Trustee, Bill Osborne for his 2 years of service as a PFPD Trustee and Brian Hupe for his 17 years as a PFPD Trustee. Trustee Hupe and Osborne are still serving as Trustees on the new 7-member consolidated Board for the fire district.Gentlemen, thank you for your service!